Self Employed Ideas
Self employed ideas you can try out to make money on your own terms and schedule. This is the goal of many aspiring entrepreneurs, particularly in how often the corporate ladder doesn't go anywhere anymore and incomes remain flat across the many years of economic growth. Still, sifting through the various self employed ideas out there and choosing an affordable or practical starting place is a hurdle.
Fortunately, many opportunities exist for anyone willing to try new things and put some elbow grease into their future. If you need inspiration or motivation, keep reading to learn 29 self-employed business ideas you can use for self-employment.
All you have to do is read the list and then choose one. Just keep in mind that even though all these are numbered into a list, it's not ranked or sorted in any way. It's just easier to read! What actually determines the value of any self employment possibility is simply whether or not it suits your situation.
1. Senior Home Companionship:
Few things are as rewarding as caring for someone else, particularly in their later years of life. Nearly 80 million baby boomers are heading into their golden years, and so the senior business sector is a rapidly growing industry.
With rising life expectancies in many cases, seniors are increasingly seeking out ways to continue being social and getting out and about. If you're passionate about helping senior citizens, then doing a home companionship business might be ideal for you. You could even go into elder caregiving or be a senior care consultant.
2. Social Media Consulting:
The younger you are, the more inherent advantage you might have for this. Do you spend a lot of your time on social media? Instagram, Tumbler, Twitter, and Facebook are household names, but other social media platforms are popping up all over the place. You might just find a few clients that need social media consulting services.
What was just a social phenomenon some years back is now crucial to many corporations and businesses. Social media is a way they can establish connections with regular folks, and they can bypass quite a few channels along the way.
It's a highly effective way of marketing their products or services. When you know how to promote products, events, or even just concepts through social media, then you might have the perfect business opportunity here.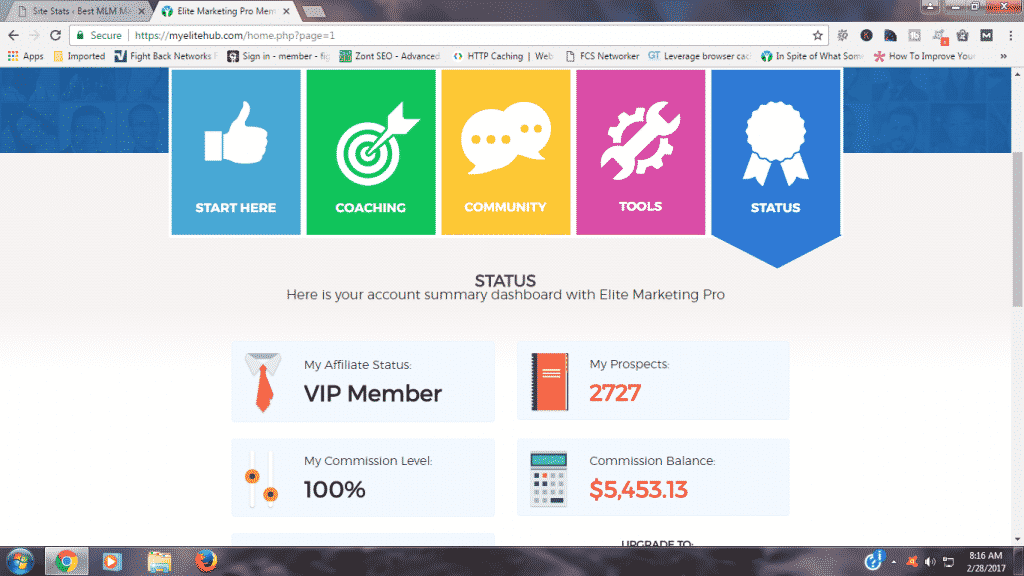 Click To Learn How To Use The Internet To Generate Leads If You're Building A Downline!
3. Menu Planning Service:
If the idea of working with food tantalizes you, but you don't actually want to bother preparing it, then a meal planning service might be right for you. In meal planning, you can help households or individuals eliminate the guesswork from what foods they need to buy, prepare, and then eat every week or month. This is becoming trendy, so you might choose to specialize in a niche, such as paleo, vegetarian, vegan, or gluten-free menus.
4. Green Cleaning Services:
Given the surplus of available cleaning services on the market, you need to make yourself different so you can stand out. Meeting modern market trends is smart, so offer clients green cleaning services. A great benefit of this particular business opportunity is that it only takes a little research to find cost-efficient cleaning solutions or products you can even make on your own rather than buy them. If your clients wind up liking your cleaning solutions or products, you might even branch out and start selling them.
5. Uber Driving:
This company, along with Lyft, has revolutionized transportation and put cab companies on notice. The ride-sharing industry has been a boon for consumers, but it's also become a sensation for those that like working on their own time. The requirements for Uber are rather mild, and you can start the process immediately by filling the online application out at their website, starting your background check.
Uber drivers average between $13 and $25 an hour. That varies based on region and the number of Uber riders in the area you live in. Also, if you drive something nice, you might qualify for Uber service upgrades that come with premium pay.
6. Academic Tutoring:
This business might be right up your ally if you're at least above average in at least one academic subject. Mathematics, science, and English are prime subject matter for tutors. Given that nearly every educational system requires these courses in their curriculum, combined with the fact that so many students struggle with them, you can build a business that focuses on helping out kids in these particular subjects.
Market the tutoring business you start by simply creating a professional flyer and then distributing it around community schools.
7. Music Tutoring:
Academic material isn't all that tutors do. If you're able to play a common instrument, and you're reasonably adept at it, you might be able to make money teaching students, young or adult, how they can play it too.
Many individuals learn better with personal lessons instead of being part of a group classroom. You don't have to be truly accomplished either. When you know the basics and have enough patience to teach others, this line of work might be right up your alley.
8. ESL Tutoring:
Millions of folks come to the United States with a weak grasp of the English language, if any. You can make money from teaching English as a second language, or just help poor speakers do it better than before.
The market is quite wide for the tutoring of immigrant children, because English is not spoken at home. Whether you teach first-generation immigrants or their kids, there is a rich opportunity here in certain markets.
9. Mobile Repair Services:
Is there anything better than discovering someone who might repair broken things you have? Well yes, discovering someone who can not only do it but will come out to you and do it where you are. Mobile repair could cover anything from computers and appliances to cars and trucks. If you're good at fixing particular things and don't mind driving to clients, you can provide quite a handy and profitable service some pay a premium for.
10. Video Production Services:
Since the turn of the millennium, YouTube has gone from not even being online to now being the second-most visited website on the planet, only following its owner-parent of Google itself. As such, there is an entire closet industry revolving around the creation of videos, be they music, how-to, or just entertainment. Do you have the knowledge, skills, and tools to make such content? You might have something you can market to the public at large.
Small businesses are increasingly looking for custom video content to put onto their websites, send out in emails, or even spread out through social media. Videos are great ways to reach prospects that learn more visually, as most anyone retains information they see and hear better than what they just read. Videos are also convenient content for anyone that doesn't have the free time to read a lot.
11. Freelance Writing:
The advent of the Internet has created a huge demand for content, but along with it has come many chances for you to write as a freelancer. Millions of blogs and websites need content, posts, and articles in order to get traffic, especially considering how much Google now relies on content to judge the usefulness of a site when determining how well to rank a site.
Remember, Google users trust it to provide them not just relevant content, but websites that can actually prove useful to answering their questions or solving their problems. So, Google prefers such sites since it works right into their own business model. If your writing skills are solid and you have the ability to intelligently write in several different areas of topic, you can make a fast start in the freelancing world.
In addition to websites and blogs, you might also start wiggling into marketing materials, such as emails, ad copy, and even doing ghostwriting for ebooks. You can start small here, but the potential for a six-digit income is certainly out there.
12. Resume Writing:
Even with steady employment numbers over the last decade, more or less, every open position still gets quite a few competing for it, especially if it is a desirable position. As such, a resume has to be right. If you provide job seekers a resume writing service that helps them stand out from other applicants, then it gives them better odds at getting the work they're looking for. That can mean money in your pockets.
13. Freelance Web Design Work:
Nearly everyone wants their own little corner of the Internet with their very own website. On the other hand, not too many have the skills it takes to get it done. When you know how to create even basic websites, you can start up an actual business. For starters, your simple websites could be entry-level work for clients with limited ambitions and narrow budgets. As your confidence, skills, and business all grow, you can start charging higher rates for more complex websites.
Just like freelance writing, you can do this from anywhere that gives you an Internet connection. You can do it from home, a coffee shop, or even on the road.
14. Child Care Services:
A growing number of parents are looking for custom solutions to their child care needs. That's because of various factors, including illnesses, work schedules, and the rising costs of commercial child care. You might want a way to earn revenue even while you stay in your own home with your kids.
Offering in-home child care with extra benefits that commercial facilities don't have is one way to do this. You might be able to attract clients with your homey setting, individualized attention, and even learning programs. On this one particular self employment possibility compared to others, you need to seriously look into the applicable regulations and laws of your city, county, and state. This industry is tightly regulated in many areas.
15. Blogging:
Is there a niche or field of interest that you are personally passionate about? If there is, you might monetize it through blogging. Each year sees thousands of blogs come and go, but the handful that offer valuable information to readers are the ones that last. They also usually prove profitable.
Advertising revenue is a primary way of making money from blogging. Advertisers love placing ads on specialty blogs, and those ads can either generate revenue through one-time payments or even continuing cash flows thanks to pay-per-click advertising. Affiliate programs can also make cash start rolling in.
Those are ad offers where you get paid either by percentage or a flat fee for a sale amount when a website visitor of your clicks on an ad and buys something from the vendor.
You might even start selling your own services and/or products from the blog you run. Ebooks prove popular, so long as they have content that readers are willing to pay up for.
Several niches that prove good for blogging include topics like entertainment, fashion, travel, real estate, computers, vehicles and auto repair, credit cards, and investing. Any subject matter many people find relevant can be turned into a blog that generates profit.
16. Buy And Sell Stuff:
Have you ever sold through eBay or Amazon? You might have a business opportunity right in front of you. It's just a matter of coming up with a low-cost product source of something you can sell. EBay and Amazon both let you make online stores where you can sell things regularly.
Just keep in mind that it's not as simple as you might imagine. It really is a business, so you'll have to have something with an advantage over the rest of the market. For instance, you need to have a unique offering with no competition, a way to undercut everyone else's pricing, or have particularly valuable features that make you stand out in the crowd.
17. Party Planning:
Do you love throwing a good party? Are you meticulously organized? Party planning might be great for you. Focus on a specific niche to stand out from the crowd, such as conventions, corporate events, or weddings.
18. Commercial Window Cleaning:
You know the cliche about having only one chance to make your first impression? A lot of stores know that their storefront is what makes that impression. Talk to local business managers and owners about keeping their shine squeaky clean by cleaning their business windows regularly. Work on local stores, as chains might have predetermined vendors. Stores that are close together give you a chance to save money and time.
19. Pet Sitting And Dog Walking:
Do you love animals? Consider making money off that passion by walking dogs or pet sitting. Only 3 percent of households hire pet sitters annually, but the numbers are certainly rising. If you think this might just be a hobby job, then think twice. $16 per visit is the national average, and some pet sitters make enough calls to make a middle-class living off of this. Throw in some extra walking or even homemade pet treat services, and you could make a lot more.
20. Coaching Or Mentoring:
It's easy to see just what someone else might need in a certain situation, but figuring out your own life rarely proves easy. This is where life coaches or mentors can prove helpful, particularly if you specialize in something specific. This business idea proves lucrative because startup costs are minimal and there are endless fields of specialization out there. You can try things like weight loss, sports, personal development, relationships, organization, and even happiness.
21. Virtual Assistant:
Being a virtual assistant is great because you are able to do this from the comfort of your own home. Many of the responsibilities of a virtual assistant are primarily computer related, so all you really need is a phone, Internet access, and a computer. Start with only a few clients at once so you can give them all the attention and hours they need. You do have to expect there to be peaks and dips in your weekly hours though, as a consistent need is rare.
22. Pet Grooming:
No one should be surprised to learn that pet grooming is booming. According to 2012 data, almost two-thirds of homes had at least one pet. That's quite a few animal baths. If you decide to be a groomer, you can handle pet bathing but even other grooming basics and needs. Adding a mobile service, should you have the needed resources, can really grow your business.
23. Translation:
Are you fluent in another language? Many businesses have to deal with different cultures if they grow internationally, and even inside the country, knowing Spanish can be a huge plus. The translation industry is bigger than ever and still growing. Website translation is a particularly popular area with its global audience.
24. App Development:
There's an app for that. Familiar with that phrase? Well, it's not always true, and even if it is, there's always room for a better idea or fresh crack at something. A little creativity and a lot of technical know-how go a long way in this lucrative market.
25. Freelance Photographer:
If you're good at taking pictures, think about profiting from it. This is one area where specializing in something makes you stand out. Focus on conventional portraits, or think about doing things like food, nature, travel, or corporate work.
26. Personal Training:
Having good physical health is a high priority for quite a few, and a lot would just love to lose some weight. If you have experience or education in helping anyone with their overall fitness, or even in a specific area, then you have a possible lucrative business at hand. As with many other suggestions on this list, emphasize a niche to stand out from the crowd.
27. The Garage Guru:
Many folks need help with their garages, whether it be maintenance and repairs, or cleaning up their cluttered area and getting ready for a garage sale. Being a garage guru means you can help homeowners completely rehabilitate their garages or get them ready for a home sale.
28. Grocery Shopping Services:
Not everyone has enough time to go and do their own grocery shopping. In fact, some don't even have the physical ability to do it. You can offer this much-needed service and work when you want by finishing somebody else's shopping list. This service is particularly helpful for parents of newborns, seniors, the disabled, and those with special dietary needs or restrictions. You can do this kind of work alone or as a contractor for a larger service.
29. Cleaning Foreclosed Homes Out:
Foreclosed homes are often in a state of condition that leaves much to be desired. On the other hand, someone has to do the necessary evil of cleaning them up so they're ready for sale. You might as well step up to the plate. Find out who in your area is working as foreclosure agents, and talk to them about whether or not they need someone to do this kind of work.
Now that you have read this list, you know top 29 different self employment business ideas to get started on your own.
Self Employed
Self employed is working for yourself and not for someone else. When you're self-employed, then you're likely a freelancer or a business owner. For example, you can be the owner of a construction company or a self-employed construction worker, who offers their services to building companies.
Synonyms and words often associated with the term "self-employed" include independent contractor, working for oneself and consultant to name a few. Self employed people can carry out the work they do how they see fit and they set the prices, unless they are considered an independent contractor via a company that gets them work. In that case, they don't have the ability to set prices.
If someone is just getting started in the workforce or they've always worked traditional jobs then they may not fully understand this concept.
If they then go to work at a new place and that company tells them that they are self-employed then what does that mean? There are several situations where someone can be considered self-employed and here we'll take a look at those.
If a roofer decides to go in business for themselves and they start up a company that they own, then they are self-employed. They could set up the business under a number of different structures such as a sole proprietorship, an LLC, or a corporation. In any of those cases, they would be self employed because they own their own business and they don't work as an employee for another company.
If this type of business owner only employees themselves and no one else then they might operate the business as a sole proprietor or as an LLC. If they are going to have employees then they might also consider setting it up under the structure of a corporation. Regardless of what type of business structure they set up their business with, they are still considered self-employed with all the benefits and responsibilities that go along with that.
A freelancer works for themselves. Individuals and companies will hire them to do a particular job. In this type of situation they will do a specific job for a determined price and once they're done then they have no further obligation to the one who hired them and the one who hired them has no more obligation to them. Lots of companies like to hire freelancers because they often do very good work and yet the company doesn't have to take on the responsibility of hiring a new employee.
This means that the company can hire someone to do a specific job that they don't need routinely but do need on occasion. It's great for the freelancer because it allows them the opportunity to pick and choose which jobs they'll take and when. If they have a good reputation they can also often choose what they get paid for their services.
Many salespeople, cleaners, and an assortment of other occupations might be hired on as an independent contractor rather than an employee. Under these circumstances, they will get paid for doing specific work or achieving certain goals rather than getting paid for any type of hourly wages. As an independent contractor, they are not required to work a particular schedule but they may be required to complete a project with an agreed-upon deadline.
Self Employed Jobs
There is liberty associated with self employed jobs. Even if you do not make millions or turn into a global financial figure, you can still lead a pretty good life. At the same time, it requires determination and consistency. If you want to reach success with your self-employment project, you have to follow through even when you don't feel like it.
In order to stay motivated on this journey, remind yourself that you are responsible for what you earn. You are not capped by a monthly limit or working hours. You are only limited by your imagination and the effort you are willing to invest in yourself.
The fact is self-employment jobs can be the most rewarding. When you wake up in the morning, you want to get as much done as possible. You are in control of your schedule. And you have only yourself to answer to if you do not get results. This can either be good or bad depending on how serious you are about reaching your goals.
Do you want to be your own boss and call the shots? Because it comes with a lot of responsibility and necessary work. Or do you want to play it safe and grow in the job you already have? It's always up to you.
Self Employment Tax
When someone is in business for themselves or they are an independent contractor then they are self-employed. In this type of situation, it is necessary for the individual to pay additional tax. This tax is paid by an employer when someone works for someone else rather than being self-employed. Here we'll help you understand more about self-employment tax.
If you have never been self employed before and don't understand how to pay this tax or how much you should pay then you'll need to get professional assistance. If you get a professional to help you keep up with how much you make and how much you will need to pay then they can set things up so that you can pay quarterly. It's a major mistake to try and save money by doing taxes yourself rather than getting the help of a seasoned professional.
One of the advantages of being self-employed is that you can take a tax deduction on federal taxes for a portion of the self-employment taxes you are now having to pay. This can help reduce the overall added tax you're having to pay for being self employed. Self employment tax represents 12.4 % that goes towards Social Security and another 2.9 % that is paid toward Medicare. This comes to a total of 15.3%.
Special Tax Obligations For The Self-Employed
If someone has never worked for themselves then they're used to their employer taking out their taxes and even paying a portion of their Social Security and Medicare. Once they become self employed, however, they take on those tax obligations. This means that a person who is self-employed will need to take out an appropriate amount for their taxes including Social Security and Medicare and they should pay those quarterly.
When someone is employed by a company then the company will pay half of the Social Security required and part of the Medicare payment. But when someone decides to be self employed they have to pay the entire amount. On the other hand, there may be tax advantages that are available to someone who is self-employed versus someone who is an employee. The tax advantages can often far outweigh any added tax obligations required by being self-employed.
Can I Take A Deduction For A Home Office?
It's quite possible, depending on your particular situation, that you might be able to take a tax deduction for a home office. If your self-employment is run out of the home and you use a portion of a room in your home to conduct a substantial amount of business then you will likely be able to take a deduction for that. When it comes to being self employed there are added responsibilities but also plenty of advantages.
As someone who is self-employed, you can pick and choose the hours that you work, the jobs that you take, and the rates that you charge for that work. Having that type of freedom is often considered one of the major aspects of achieving the American dream. It is important, however, to understand the full meaning of being self employed.
Many dream of working for themselves or starting their own business. The power to set your own schedule, decide what kind of work you do, and earn income as you choose is a freedom that quite a few think worthy of pursuit.
If any of this sounds like it might be something which intrigues you, now might just be the ideal time to try out top self employed jobs ideas. The United States Department of Commerce runs its own Bureau of Economic Analysis. According to its data, self employment doubled from 2000 to 2011.
How can I make money self-employed?
To make money self-employed, you can consider the following steps:

1. Identify your skills and expertise: Determine your strengths and what you can offer as a service or product.

2. Research your target market: Understand the demand for your skills or products and identify your target audience.

3. Develop a business plan: Create a detailed plan outlining your business goals, target market, marketing strategies, and financial projections.

4. Set up your online presence: Create a professional website and establish a strong online presence through social media platforms and online marketplaces.

5. Promote your services/products: Utilize digital marketing strategies such as SEO, content marketing, social media advertising, and email marketing to reach a wider audience.

6. Network and collaborate: Build relationships with other professionals in your industry, attend networking events, and collaborate with complementary businesses to expand your reach and opportunities.

7. Provide excellent customer service: Focus on delivering high-quality products or services and prioritize customer satisfaction to build a strong reputation and gain repeat customers.

8. Continuously learn and adapt: Stay updated with industry trends, invest in your skills, and adapt your business strategies to remain competitive in the market.

Remember, building a successful self-employed business requires time, effort, and dedication.
What business can I start on my own?
There are various business ideas that you can start on your own. Some examples include:
Freelance services: Offer your skills and expertise as a freelancer in areas such as writing, graphic design, programming, social media management, or consulting.
E-commerce store: Start an online store selling products of your choice. You can use platforms like Shopify or WooCommerce to set up your store.
Blogging or content creation: Create a blog or YouTube channel and generate income through advertising, sponsored content, or selling digital products like e-books.
Online coaching or tutoring: Offer coaching or tutoring services in a subject you excel in, such as fitness, nutrition, language learning, or academic subjects.
Virtual assistant services: Provide administrative or technical assistance remotely to busy professionals or small businesses.
Handmade or craft business: Create and sell handmade products like jewelry, artwork, or home decor items either through an online store or platforms like Etsy.
Event planning: Start your own event planning business, organizing and coordinating weddings, parties, or corporate events.
Remember to research and validate your chosen business idea to ensure there is demand and potential profitability.
What is best suitable for self-employment?
Self-employment is best suited for individuals who are motivated, self-disciplined, and have a strong entrepreneurial drive. It is important to choose a field or industry that aligns with your skills, interests, and expertise. Some popular self-employment options include freelance writing, graphic design, consulting, e-commerce, photography, and online coaching. Ultimately, the best suitable self-employment option will depend on your specific talents and passions.
What Is The Cashflow Quadrant By Robert Kiyosaki